Mohammed Image Archive




(return to main Archive page)




Charlie Hebdo


This section of the Mohammed Image Archive features an extensive collection of Mohammed cartoons that have appeared in the pages of the French humor publication Charlie Hebdo. It also compiles editorial cartoons (featuring Mohammed) about Charlie Hebdo which appeared in other outlets.

Charlie Hebdo is a satirical French-language newspaper published weekly in Paris. Its humor is sarcastic and irreverent, relentlessly mocking French politicians, customs and institutions, usually from a far-left perspective. For decades one of the magazine's favorite targets has been organized religion, with Christianity on the butt-end of most of the humor. But unlike almost all other left-leaning comic publications and humorists, the staff at Charlie Hebdo were not afraid to include Islam in the list of religions it felt duty-bound to mock.

As a result, Charlie Hebdo became one of the few publications in Europe willing (and eager) to publish cartoons lampooning Mohammed, even when (and actually because) such cartoons elicited outrage among religious fundamentalists and their enablers in the media. Starting as early as 2002, and probably earlier as well, Charlie Hebdo occasionally featured drawings of Mohammed on its pages, which raised the ire of Muslims worldwide and often made Charlie Hebdo the subject of death threats. Those threats only increased after 2006 when Charlie Hebdo ran several features and strips about the "cartoon crisis" gripping Europe -- i.e. the debate over whether secular Europeans should obey Islamic religious law by self-censoring any imagery of Mohammed. As a result, Charlie Hebdo was targeted by Muslims with numerous lawsuits and death threats, culminating eventually in two terror attacks.

The first of these attacks happened on the night of November 1, 2011 when the offices of Charlie Hebdo were firebombed by Muslim terrorists, apparently angered by that week's issue which was renamed "Charia Hebdo" (Sharia Hebdo) with Mohammed as guest editor. Although no one was killed in this attack, it elicited worldwide sympathy for Charlie Hebdo and the newspaper became an international symbol for freedom of speech.

The terror campaign against Charlie Hebdo reached its bloody climax on January 7, 2015, when two Muslim terrorists burst into the magazine's offices and massacred twelve staff members, editors and guards. This led to international outrage and sympathy for Charlie Hebdo, and spawned the political slogan "Je Suis Charlie" to announce one's solidarity with Charlie Hebdo's right to free speech. The subsequent issue which came out after the bombing sold nearly 8 million copies, and -- since Charlie Hebdo maintains its status as a print-only publication, with only limited sample content published online -- remains the only issue ever seen by most people outside of the small group of Charlie Hebdo's normal 60,000 subscribers.

This page is not meant to be a complete detailed chronicle of Charlie Hebdo's history, controversies and terror attacks, but rather simply a compendium of the many Mohammed cartoons that have appeared in the magazine's pages over the years.

In the wake of the 2015 massacre, the new publishing director announced that Charlie Hebdo would no longer depict Mohammed, leading many to mourn the demise of the paper and the triumph of the "terrorists' veto"; in response some of the remaining survivors on the cartooning staff quit. Despite the purported new policy, however, a few new Mohammeds have snuck back into the paper since then (see the final entries in the chronological gallery below); because they were not publicized, they attracted no attention in the media or in the Muslim world. It remains unclear to what extent, if at all, Charlie Hebdo will continue to publish satirical portraits of Mohammed in the future.

One of the unusual aspects of the worldwide attention on Charlie Hebdo is that very few of its critics or defenders have ever actually seen a physical copy of the newspaper -- because Charlie Hebdo does not publish a complete digital version online, instead remaining old-fashioned and reserving most of its content exclusively for its print editions. While the paper does have its own Web site, it generally only reveals snippets and samples of the full print version. Furthermore, the paper is only distributed within France, and very few copies are sent internationally. So, while the Muslim world rages about Charlie Hebdo 's mockery of Mohammed, and the Western world rushes to its defense, almost no one on either side of the debate has ever actually seen a copy of the newspaper (aside from the one commemorative issue after the 2015 terror attack).

Fortunately, various media reports have featured excerpts of Charlie Hebdo's most controversial cartoons, and fans have occasionally scanned the print pages and uploaded these digitized versions to the Internet. This section of the Mohammed Image Archive collects those excerpts and scans all in one place for the first time.

The first part of this Web page contains scans of Mohammed cartoons from print editions of Charlie Hebdo, and are presented in chronological order; exact dates of publication and names of artists are given where known.

Following that, the second part contains editorial cartoons about Charlie Hebdo but which appeared in other publications, and of course which feature a rendering of Mohammed.

(Thanks to Archive reader Charles M. for several of the links and images on this page.)


---
2002

In 2002, Charlie Hebdo ran this panel by cartoonist Cabu. The sign translates as "Election of Miss Sack-of-Potatoes, organized by Mohammed," who says "I choose the Beauty of Fontenay!" while drinking and smoking. His words contain a French pun: "Belle-de-Fontenay" is a well-known type of French potato, originally from the Parisian suburb of Fontenay-sous-Bois (which later saw unrest from Muslim immigrants during the riots of 2005). Additionally, Geneviève de Fontenay was the host of the real "Miss France" competition.
(Thanks to: etienne, karmic inquisitor, haoyuep, and François.)


2006



Issue #712 on February 8, 2006 was devoted to mocking Islamic extremism and featured several Mohammed portraits, including this one on the cover, and was only published after Charlie Hebdo won a court case granting them permission to do so. The publication sparked anger in France's Muslim community. In the cartoon above, also by Cabu, the headline reads, "Mohammed over-run by the fundamentalists," while Mohammed is saying, "It's hard to be loved by idiots."
(Thanks to: etienne.)



In 2006, Charlie Hebdo published an 80-page special issue entitled Charlie Hebdo Blasphème devoted to mocking organized religions (just as they had done in 2005 with a similar special issue titled Les Années Jean-Paul II, which targeted Catholicism). Charlie Hebdo Blasphème contained only one cartoon which depicted Mohammed, shown above, by cartoonist Luz (Rénald Luzier). (Click on the image to see a high-resolution version.) Here is a translation of the text:
Luz: "Hey, I'm going to draw Mohammed in bondage gear. Hee hee. Funny."
Mohammed: "My vengeance will be terrible! The Chikungunya virus! Tsunamis a-go-go! The avian flu! The return of [Lionel] Jospin! You'll be doomed to draw [Nicolas] Sarkozy until the end of time! Your offence will plunge mankind into darkness for centuries and centuries! Ha ha, I'm the king of biscotti!"
Luz: "Quick, my eraser!"


2011



Issue #1011 of Charlie Hebdo ranks as the most controversial edition of the paper ever published. Its official release date was supposed to be November 2, 2011, but it was actually printed two days earlier on October 31, and as soon as it came off the press it attracted attention from the media and condemnation from Muslims. The issue was titled "Charia Hebdo" to satirize the recent victory of an Islamist party in Tunisia which had just declared that shari'a law would become supreme in that country. Mohammed is named as the issue's guest Editor-in-Chief, and the drawing on the cover, as usual by staff cartoonist Luz, depicts Mohammed saying, "A hundred lashes if you don't die laughing!" There is also a second, smaller Mohammed in the red headline above his turban. On the night of November 1, 2011 -- the night before the issue officially went on sale -- Charlie Hebdo's office was firebombed and its staff received multiple death threats. No one died in the bombing, but the staff was forced to relocate to the offices of the leftist newspaper Libération. On the following day, November 2, Charlie Hebdo's Web site was hacked by Islamic fundamentalists who placed the following mssage on the paper's home page: "You keep abusing Islam's almighty Prophet with disgusting and disgraceful cartoons using excuses of freedom of speech. ... Be God's Curse On You! We will be Your Curse on Cyber World!" There are numerous different scans (varying in quality) of the cover at multiple sites online; the one above, chosen because the scan was the clearest, was taken from here.



On the morning of November 2, 2011, after the firebombing the night before, cartoonist Rénald "Luz" Luzier holds up a copy of the issue that infuriated Muslims (for which he drew the cartoon of Mohammed shown on the cover).



The back cover of the "Charia Hebdo" issue featured, in part, this Mohammed portrait by Charb, which reads, "Yes, Islam is compatible with humor. -- Mohammed." The image was taken from this blog post which also contains several other (non-Mohammed) scans from the issue which are not available anywhere else.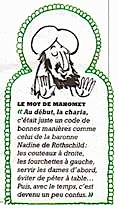 Interspersed throughout the "Charia Hebdo" issue #1011 were many short comments by Mohammed, also illustrated by Luz, such as these two. The one on the left reads, "A Word from Mohammed: 'One day, I organized a cartoon contest among my followers, but none of them dared to draw my mug. It got to me, I had all of their hands chopped off. It's nice that you're there, guys and gals of Charlie.'"



Issue #1011 also featured this standalone cartoon by Luz. (Click on the image to see a high-resolution version.) It can be seen in context -- how it originally appeared on the page which was entitled "La Charia Molle" ("Soft Sharia") -- here. The text reads,
"Blasphemy! You have drawn Mohammed's face."
"That's not his face, that's his dick!"
"Oh? OK, but I've got my eye on you."



The issue also features "Aperitif Halal: An Editorial by Mohammed," illustrated by this small portrait; the caption says, "There is no god but God (if not, it's a mess)." The full text of Mohammed's editorial is translated into English here.



After Charlie Hebdo's offices were destroyed in the November 1, 2011 firebombing, the staff temporarily relocated to the offices of the left-wing daily newspaper Libération, and the subsequent "Libération + Charlie Hebdo" November 3 "Special Supplement" included these images of Mohammed appearing in the flames of a Molotov cocktail, and as a dragon. The special issue was delivered as a four-page supplement wrapped around the November 3 edition of Libération.
(Thanks to: Jean-Pierre.)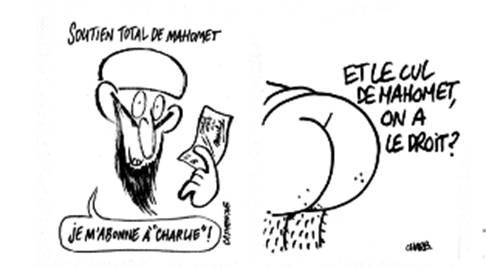 The following issue, #1012, released on November 11, 2011, had on page 16 two Mohammeds; first one by cartoonist "Catherine" of Mohammed saying "I subscribe to Charlie!" under the title "Total Support of Mohammed," while the other by cartoonist "Charb" asks "Is it allowed (to draw) Mohammed's ass?"
(Thanks to: Jean-Pierre.)


2012



In July of 2012, issue #1057 of Charlie Hedbo satirized the scandal surrounding the film "Innocence of Muslims" (for the full story of the movie, see the Archive's "Television, Film and Video" page) with this full-page spread on the inside front cover featuring three different Mohammeds. Under the title "Laugh, Goddamn It!" Luz's tuxedoed Mohammed declares, "The nominees for the best anti-Islamic film are...", surrounding by several small vignettes, two of which also depict Mohammed (upper right). Detailed close-ups of all three Mohammed portraits are presented below.



The central Mohammed, by Luz, in high resolution.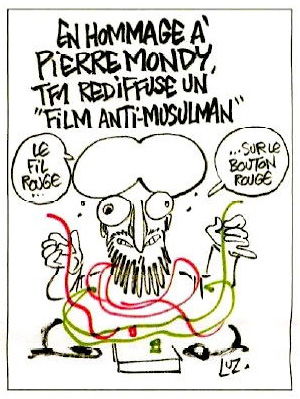 The other two Mohammeds from the full-page spread. The fist one, from the upper right corner, is by cartoonist by "Walter Foolz" and is entitled "Mohammed Apologizes for His Deplorable Film," and has him saying, "I was told it was a commercial for Mat Mut" (Matmut is a French insurance company). The next cartoon, also by Luz, announces "In honor of Pierre Mondy, TF1 re-airs an 'anti-Islamic movie,'" and features Mohammed delivering (French actor) Pierre Mondy's famous line "The red wire on the red button" from the 1973 comedy film "Now Where Did the 7th Company Get To?", as he constructs a bomb.



On the back cover of the same issue #1057 are three more Mohammed cartoons. (Click the image to see it in high resolution.) The top one, again by Luz, titled "The Film That Sets the Muslim World on Fire," has a naked Mohammed say, "What about my ass? You like my ass?" Below on the left, a cartoon by Coco (Corinne Rey) is entitled "Mohammed: A Star Is Born" and shows Mohammed in a porn film with a star covering his anus. The final one, by Charb, at the lower right, is entitled "Stop Messing Around with Mohammed!" while he announces, "I'm Jewish!"


2013




In 2013, Charlie Hebdo published two "special edition" standalone comic books chronicling in cartoon form the life of Mohammed. Volume 1, officially entitled La Vie de Mahomet, 1ere Partie: Les Débuts d'un Prophète (The Life of Mohammed, Part 1: The Beginnings of a Prophet) details the prehistory of Islam, Mohammed's birth and early life, up until the time he declared himself to be the Messenger of Allah. Volume 2, officially entitled La Vie de Mahomet, 2de Partie: Le Prophète de l'Islam (The Life of Mohammed, Part 2: The Prophet of Islam) covers the second half of his life as a religious leader and military commander.

La Vie de Mahomet was drawn by Stephane Charbonnier (a.k.a "Charb"), Charlie Hebdo's leading cartoonist and Director of Publication. All writing, research and scripting for the comic was done by Zineb El Rhazoui (a.k.a "Zineb"), a Moroccan former Muslim and secular feminist who had recently joined the maagzine as its expert on Islam.

Show above are the covers of both volumes. For much more info, the Mohammed Image Archive's "Comic Books" section features an extensive selection of sample pages from both volumes of La Vie de Mahomet; the images are presented in the Comic Books section rather than on this page because these releases are not actual editions of Charlie Hebdo the newspaper but instead are standalone published books.


2014



In early 2014, both volumes of La Vie de Mahomet were bound together and reissued as a single hardback book entitled simply La Vie de Mahomet and which also included several pages of bonus material examining Mohammed's sexual escapades, which had not appeared in either of the original comics. Once again, sample images from this release are presented in the Mohammed Image Archive's "Comic Books" section.


2015



By far the most well-known issue of Charlie Hebdo, issue #1178, came out on January 14, 2015, a week after the terror attack that killed a majority of the paper's staff, including several cartoonists, many of whom had previously drawn Mohammed for the paper, such as Stephane "Charb" Charbonnier, Jean "Cabu" Cabut, Bernard "Tignous" Verlhac, and Georges Wolinski. The massacre sparked sympathetic protests worldwide under the slogan "Je Suis Charlie," meant to express solidarity with the victims. Everyone wondered what the surviving staff of Charlie Hebdo would do in the aftermath -- shutter the newspaper forever, or continue publishing? The world cheered when the survivors announced that a new issue would be released on January 14. The issue's cover, shown above, once again included a portrait of Mohammed -- drawn by one of the few surviving cartoonists, Rénald "Luz" Luzier. Mohammed is himself holding up a "Je Suis Charlie" sign, but underneath a confusing and ambiguous headline: "All Is Forgiven." It was never explained who was forgiving whom: Is Mohammed forgiving the terrorists? Is Charlie Hebdo forgiving Mohammed, in gratitude for him joining in the "Je Suis Charlie" protests? Or -- the most controversial interpetation -- is the surviving staff of Charlie Hebdo forgiving the terrorists, out of fear? Instead of the usual print run of 60,000, issue #1178 sold an unprecedented 7.95 million copies. Aside from the cover, there are no other depictions of Mohammed inside the issue. (Click on the image to see or download a high-resolution version of the cover.)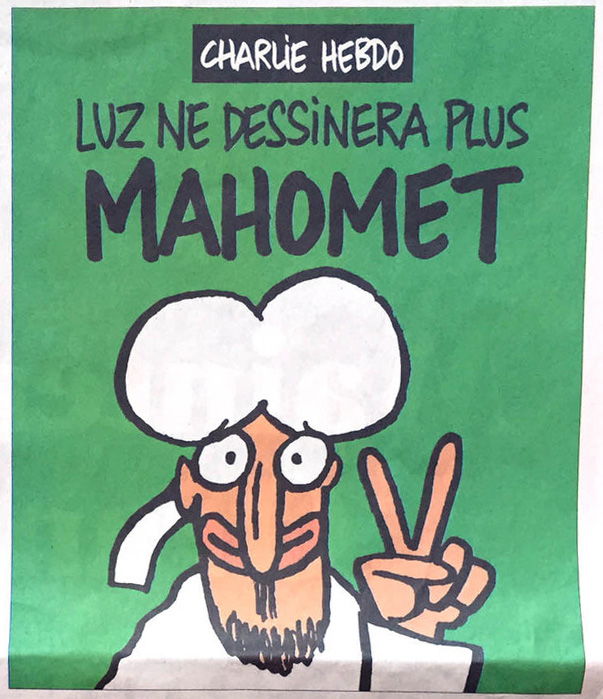 This May 6, 2015 article announcing that Charlie Hebdo cartoonist Luz would never again draw Mohammed was illustrated by one of his drawings of...Mohammed, as shown here.
(Thanks to: Jean-Pierre.)


2016



On January 6, 2016, Charlie Hebdo released a double-sized commemorative issue on the one-year anniversary of the massacre. Most of the issue mocked religions in general and skewered the media coverage of the attack, but hidden inside were two small Mohammed portraits. The first one (shown above) is by massacre survivor Corinne "Coco" Rey. The caption reads: "One Year Later, Attitudes are Changing!" while Mohammed, painting at an easel, says "I'm now into self-portraits!" Four additional Mohammed sketches complete the scene.



The issue's second Mohammed cartoon illustrates an article about children who voiced their support for Charlie Hebdo, and whose drawings were collected an upcoming book entitled #JeDessine -- La Jeunesse Dessine Pour Charlie Hebdo après le 7 Janvier ("#IDraw -- Kids Draw for Charlie Hebdo After January 7"). The portrait is attributed to "Louis, age 13," and features half a Mohammed, who says, "Nowhere does it say that it's forbidden to draw half of me!"



Page 2 of the June 15, 2016 edition of Charlie Hebdo (issue #1247), which focused on the terror attack by a Muslim extremist at the Pulse gay nightclub in Orlando, Florida, featured this drawing by cartoonist Corinne "Coco" Rey. Although it is not overtly identified as Mohammed, the style, color scheme and turban are exactly the same as previous Mohammeds in Charlie Hebdo, so it is obviously meant to be him. The title reads, "Orlando: It could have been avoided!" and a flamboyantly gay Mohammed adds "...if I had made my coming-out!" Click on the image to see a high-resolution version.
(Thanks to: Charles M.)


Editorial Cartoons from Other Publications Which Mention Charlie Hebdo and Depict Mohammed

This section is exclusively for editorial cartoons which both show Mohammed and which specifically mention (or depict) Charlie Hebdo. Other editorial cartoons which were presumably created in response to the Charlie Hebdo terror attacks in 2011 and 2015 but which don't actually mention Charlie Hebdo itself are included on the Archive's "Political Cartoons" page.



The January 14, 2015 post-massacre issue of Charlie Hebdo famously included on its cover a cartoon by Luz showing Mohammed holding up a "Je Suis Charlie" sign. Interestingly, other artists had already published almost identical versions of the same concept before January 14. For example, Quebec's daily newspaper Le Devoir published this panel by their staff cartoonist "Garnotte" (Michel Garneau) on January 10, 2015 -- four days before the same idea was made famous by the Charlie Hebdo version. Le Devoir originally hosted the carton here, but have since taken it offline; the cartoon now only survives in this Pinterest post.



The French humor monthly Fluide Glacial published this version by cartoonist "Pixel Vengeur" (Benoît Serrou) a few days before Charlie Hebdo's version (direct link to image here); in this case, the "Je Suis Charlie" sign covers up Mohammed's face.



Syndicated political cartoonist Milt Priggee's reaction to the Charlie Hebdo massacre was published on January 13, the day before the Charlie Hebdo cover, and depicts Mohammed as a good guy who just happens to have bad followers.
(Thanks to: strsbndy)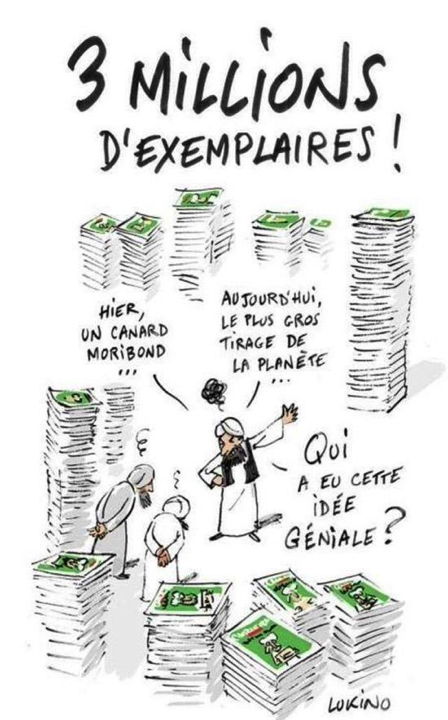 Jacques Lucchino, a.k.a. "Lukino," drew this cartoon of Mohammed telling the extremists, "3 million copies! Yesterday, a dying paper...Today, the biggest print run on the planet...Who came up with this bright idea?" The cartoon was found online here, though the site does not specify in which publication it originally appeared.



Marian Kamensky, editorial cartoonist for the Swiss magazine Nebelspalter and the German magazine Eulenspiegel, responded to the January, 2015 Charlie Hebdo massacre with this cartoon of a Charlie Hebdo Mohammed literally bathing in blood.



On January 14, 2015, Miguel Villalba Sanchez parodied the Charlie Hebdo cover by announcing not that "All is forgiven" (as in the original version) but that "All (copies of the post-massacre issue) are sold out."



In February, 2015, a month after the massacre, the French Publishers' Association released a collection of cartoons entitled La BD est Charlie (Comic Strips Are Charlie) to benefit the families of the Charlie Hebdo cartoonists killed in the terror attack. The collection contained (at least) two depictions of Mohammed. This one, by Stéphane Oiry, was titled, "Art Therapy -- Anti-Stress Coloring," and can be found on the eighth row of this Web site featuring samples from the collection. (Although this image itself does not mention Charlie Hebdo, it is from a book which does mention it, so merits inclusion in this section.)



Frédérick Deligne's contribution to La BD est Charlie shows Mohammed admonishing the killers, "Three million copies of my face so far! Bravo! Thanks for this achievement!" This cartoon, although apparently in the collection, is not found among the online samples. It is very similar to the joke in the "Lukino" cartoon above.



---
Click here to return to the main Mohammed Image Archive page
Other Archive Sections:
Islamic Depictions of Mohammed in Full
Islamic Depictions of Mohammed with Face Hidden
European Medieval and Renaissance Images
Dante's Inferno
Miscellaneous Mohammed Images
Book Illustrations
Book Covers
Comic Books
The Jyllands-Posten Cartoons
Political Cartoons
Online Cartoons
Derivative Works
"This Is Mohammed"
Extreme Mohammed
Not Mohammed
Email Responses from Readers
Links
(Click here to return to the main zombietime page.)