The City of Berkeley last year paid artist Scott Donahue $196,000 to install two sculptural groups at either end of a new pedestrian bridge across the freeway on the city's waterfront. The two installations (which you can see at the bottom of this post) mostly feature large human figures doing "typical Berkeley" activities. But, as noted in this Matier & Ross column, the artist recently added a series of small bronze bas-relief sculptures around the base of each statue. The new sculptures around the base of the westernmost statue depict, among other things, dogs going shit, fucking, and sniffing each other's butts.

Matier & Ross wrote that the San Francisco Chronicle editors "blushed at the idea of publishing" photos of the dog sculptures, but I have no such compunction. As a public service, I decided to photograph each of the bas reliefs and publish them here, so the taxpayers of Berkeley (most of whom never use that pedestrian bridge) can know what they're paying for. Here we see a photo showing all three of the bronze dog sculptures.

This is the "shitting dog" sculpture (illuminated this time with a camera flash, so the anal area is more clearly visible).

And here's the one showing two dogs fucking.

And of course, the butt-sniffing.
When interviewed by Matier & Ross, Donohue said,
"I am showing dogs doing what dogs do at the dog park." … Donahue says the west end sculpture simply depicts the natural and recreational activities at Berkeley's waterfront, which includes a dog park.

"I am a realist," Donahue said. "You can celebrate a place in both a serious and lighthearted way."
You decide: Is this the best way to spend Berkeley's taxpayer dollars?

Here's the full sculptural group at the west end of the bridge. As you can see, the large figure shows kite-flyers, ducks, and a dog leaping for a Frisbee. The smaller bronze bas-reliefs depicted in the photos above can be seen on the right side of the tilted red base.

The other sculptural group at the east of the bridge show activities associated with the town of Berkeley itself, as opposed to just the waterfront park. Here we see screaming protesters holding signs, interspersed with scholars studying.

Around the base of this scultural group are other "typical Berkeley" activities, including "occupying" a grove of trees (note the small bronze figure in the branches at the lower left), an apparent reference to the Berkeley "tree-sitters."

Another depicts the Berkeley "Critical Mass" bike-riding protest, in which bicyclists surround and harrass car drivers.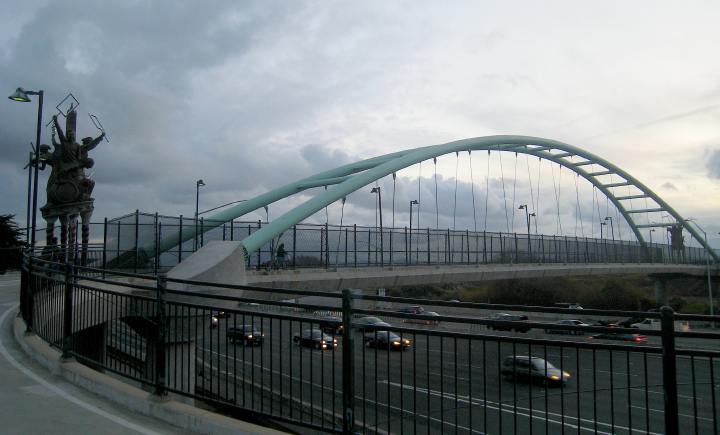 Donahue's installation was already controversial for being visually incomprehensible to passing drivers, for whom it is intended. To motorists whizzing by on the freeway below, the sculptures — which are supposed to be an invitation to Berkeley — look like nothing more than a jagged mass of hard-to-decipher shapes.