New post at zombietime:
Violent Berkeley Riot Causes Cancellation of Milo Yiannopolous Speech — Berkeley, February 1, 2017
Comment on the report here.
Excerpt:
A long-anticipated speech by Breitbart.com editor Milo Yiannopolous was abruptly canceled Wednesday evening after protests outside the U.C. Berkeley event quickly escalated into a violent riot.

Rockets and incendiary devices were fired at police, the Student Union campus building where Milo was scheduled to appear was besieged and severely damaged, Trump supporters were assaulted, fires were ignited, and the riot then spilled out onto city streets where windows were smashed and businesses vandalized.

This page contains videos and photos of the riot taken by me, documenting the violence — as well as additional videos taken by other witnesses showing assaults on Milo supporters.

Much of the violence was at first initiated by a large contingent of masked self-styled "anarchists," but they were cheered on and encouraged by the overall crowd of several thousand protesters who screamed "Shut it down!" and "Fuck the police!" as the black-clad anarchists began smashing things up and throwing firebombs. When it was announced that Milo's speech had been canceled, the entire crowd of protesters (not just the anarchists) erupted into celebration. The crowd then dispersed into city streets where they committed more violence and vandalism over the next several hours.

Left-wing campus groups had been planning the riot for months, as detailed in "The Official Anti-Milo Toolkit," a comprehensive strategy document prepared by a coalition of leftist organizations outlining exactly how to get Milo's Berkeley appearance canceled, and providing shockingly fascistic rationalizations as to why free speech should not be allowed for conservatives.
With lots of videos and photos — for example: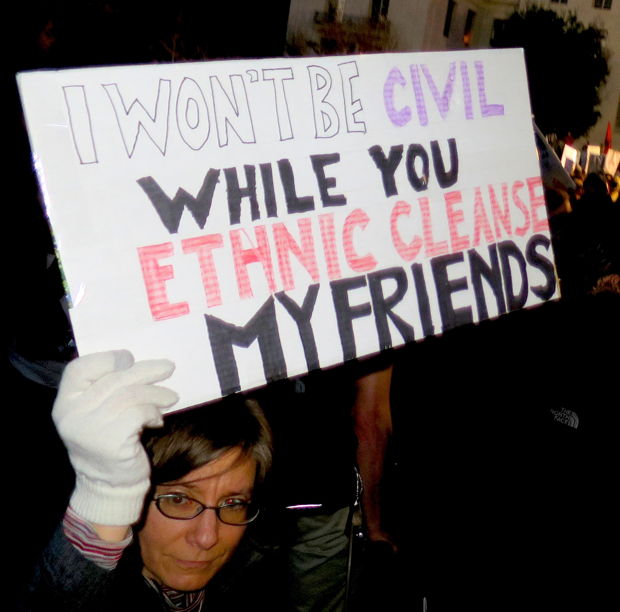 Click HERE to see the full report!