The zombietime empire has now grown: First a photo archive, then a blog — and now a tour company!:
---



Walking Tour of San Francisco Protests



Political tourism in the Age of Obama
On any given day in San Francisco, a dozen or more political events — rallies, teach-ins, protests, lectures, conferences, demonstrations, performances and more — are happening all over the city. Most out-of-town visitors have heard of San Francisco's legendary political activism, but they don't know where to go to witness it in person. The problem for tourists is that the city's political scene is a moving target — events' locations change from day to day, and unless you have an insider's knowledge of where each upcoming event is likely to occur, it's entirely possible to spend your vacation in San Francisco without scoring any souvenir snapshots of West Coast political activism with which to impress your friends back home.
That is — until now.
Zomguide is a revolutionary new service for globetrotters visiting San Francisco and hoping to soak up the real local color. Whether you're from Tokyo, Peoria or Sausalito, Zomguide will provide your own personal tour guide for the day, leading you and a small group on an exciting walking tour from protest to sit-in to workshop to riot. Each day's itinerary is unique! No two tours are the same, since every day has a fresh array of political outbursts. Our researchers track down the most interesting events, and the final route is only revealed hours before each tour begins.
Best of all: The first tour is free!
To introduce our new service, Zomguide presents here a recreation of our April 15, 2010 afternoon tour, complete with detailed pictures from throughout the itinerary, as well as a transcription of the guide's narration. Come along and see what political tourism in the Age of Obama is really like!
Our April 15 afternoon tour made four stops:
✦ 12:00pm 1. Rally Against Carbon Trading

✦ 1:00pm 2. SEIU Immigration Amnesty Protest

✦ 1:30pm 3. "Block That Tea Party" meeting

✦ 4:00pm 4. San Francisco Tax Day Tea Party
Here's the daily itinerary map handed out to each tour participant: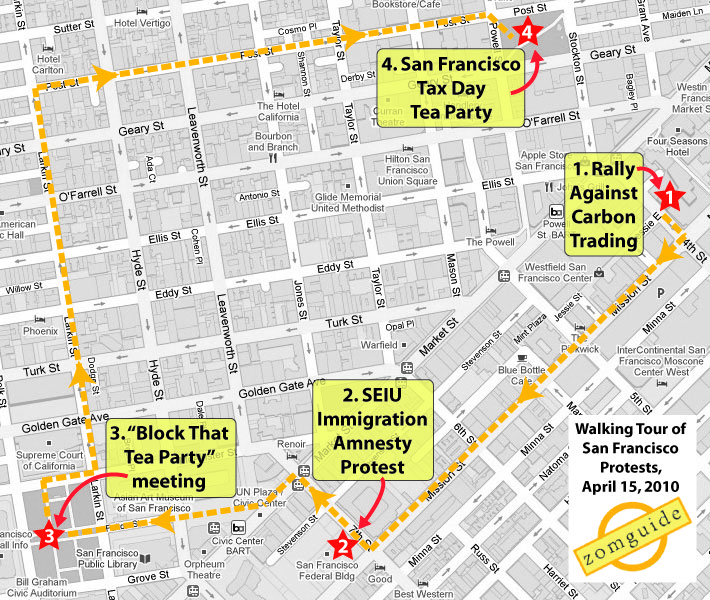 There was also a separate morning tour and even an evening tour on April 15, visiting other parts of the city. Future tours will visit a completely different array of events — each day brings a fresh agenda, a new crop of unexpected political moments.
Ready to start? Let's go! …
…
---
…
Continue reading the rest here!