Iraq War Fifth Anniversary Protest, San Francisco, March 19, 2008





Berkeley Rethinks Mao



Across the bay from the main San Francisco anti-war protest, another protest was happening simultaneously in Berkeley -- once again at the Marine Corps Officer Recruiting Office. While the S.F. protests were organized primarily by ANSWER and Direct Action Against the War, the Berkeley protest was put together by World Can't Wait, familiar to everyone for their standard uniform of Guantanamo Orange jumpsuits.

What not everyone yet realizes is that World Can't Wait is nothing more than the public face of the Revolutionary Communist Party, a Maoist cult masquerading as a political movement.



When I breezed by the office in the middle of the day, the protest was ridiculously small -- about ten people. Here, a media member interviews the one counter-protester who bothered to show up.

World Can't Wait had been hyping this protest for a while, trying to stir up interest, but it loooks like no one showed up except for some core members of WCW itself.



The Berkeley Police were expecting a big protest as well, but they ended up outnumbering the protesters about 3-to-1.



(Photo courtesy of neocon hippie)
Later in the day, after I left, the crowd size increased a little, but not really by much. Fellow citizen journalist "neocon hippie" was on hand to capture the afternoon's action.



(Photo courtesy of neocon hippie)
WCW's plan had been to round up as many Berkeley High School students as possible when they emerged from campus for the lunch hour. They had great success with this strategy on February 12th, when hundreds of students joined the protest, but on this day (a Wednesday), they seem to have corralled only about one classroom's worth -- 25 or so students. What you see here was the climax of the protest, with the day's maximum number of participants.

So even Berkeley has apparently gotten sick and tired of these World Can't Wait Maoists. As knowledge spreads of their true origins and intent, their popularity shrivels, even here in the most left-wing city in the nation.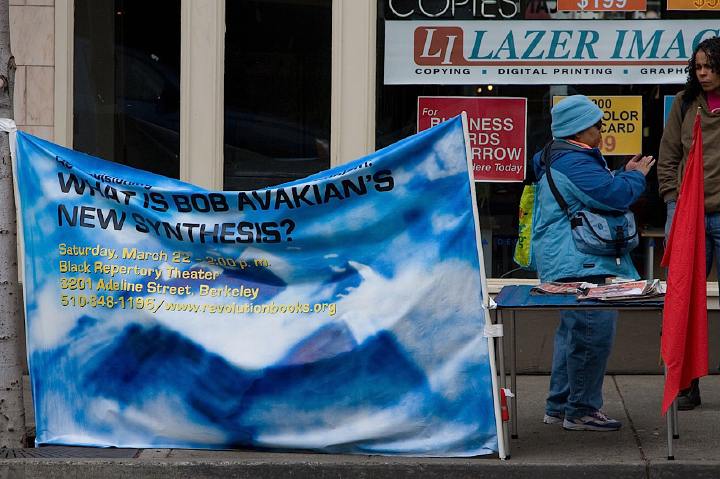 (Photo courtesy of ProtestShooter)
World Can't Wait even went so far as to drop the mask entirely at this protest, putting up a table about Bob Avakian (the exiled leader of the Revolutionary Communist Party, and the focus of their cult of personality), and hoisting the red RCP flag. The website "Discover the Networks" has a good page summarizing the Maoist philosophy of the Revolutionary Communist Party, and mentioning how World Can't Wait is an offshoot of it.

But then things took an unexpected turn...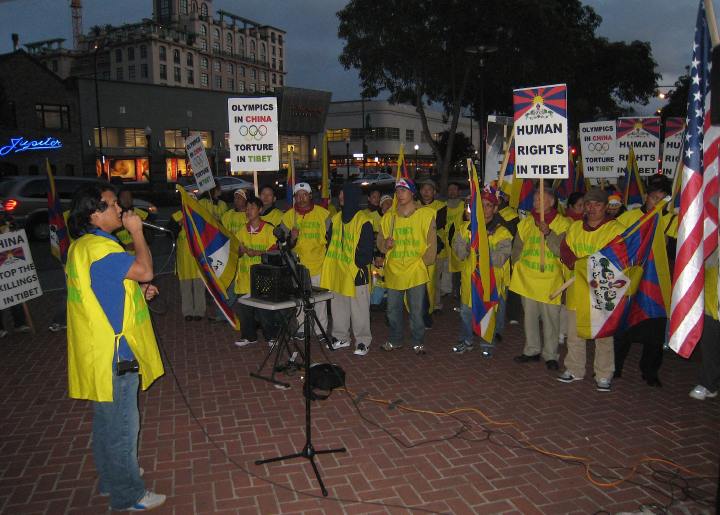 I returned to check out the action at the end of the day, to see if the WCW protest had picked up any steam. Instead it had disappeared entirely -- not a trace of them. In their place, however, an entirely different protest had arisen -- approximately 100 Tibetans (and sympathizers) were protesting the Chinese government's brutal crackdown on unrest in Tibet over the previous few days.



Berkeley has a surprisingly large Tibetan immigrant community, and many are refugees from oppression at the hands of the communist Chinese government.



They had a nice candlelight vigil going. It was just at dusk, which explains why some of these pictures appear dark and some appear light -- depending on which camera setting I used.



Many there were advocating a boycott of the 2008 Beijing Olympics.



After I'd been there for a while, something dawned on me -- there was actually a connection between the World Can't Wait protest earlier in the day and this Tibetan protest in the evening:

Who was it that first ordered the Chinese invasion and occupation of Tibet in 1950? Chairman Mao.
Who is it that Tibetans ultimately hold responsible for what they see as their subjugation at the hands of the Chinese government? Chairman Mao.
And, on the other hand, who is it that World Can't Wait idolizes as their ultimate hero and political inspiration? Chairman Mao!

So, on the same day in the same city, just a few hours and a few yards apart, there were two different protests: one in favor of Mao, which turned out to be embarrassingly small despite being heavily hyped; and another against Mao and his legacy, which drew more than twice as many people, despite being hastily organized and not advertised at all.



Have things turned around in Beijing-by-the-Bay? Completely subverting Berkeley's reputation as the one city in the nation that would seem to be most sympathetic to Mao and his ideology, the competing protests on March 19 proved that the opposite is now true: The Maoist sympathizers have dwindled to a sad and demented few, who can only scrabble together a veneer of semi-popularity by recruiting a few ignorant and bored teenagers for an hour or two; whereas the anti-Mao forces seemed vigorous and growing stronger.



Beware, old-school Berkeley leftists: a new generation is here!





Next page: home

Previous page: Obamarama



Iraq War Fifth Anniversary Protest home page





(Click here to return to the main zombietime page.)