These photos were taken at the "Solidarity with Palestinian Prisoners" protest at Powell and Market streets in San Francisco on Sunday, August 29, 2004.


A group calling itself Bay Area Palestine announced a rally in support of Palestinian prisoners who were then staging a hunger strike for better conditions in an Israeli prison. (The prisoners' demands included such items as toasters and knives in their cells.) Never mind that the leader of the hunger strikers was filmed eating in secret, and that the strike was soon to be called off. The rally was going forward anyway!

A rival group of Israel supporters, called San Francisco Voice for Israel, got wind of the rally and decided to stage a simultaneous counter-rally. The stage was set for a clash of ideologies.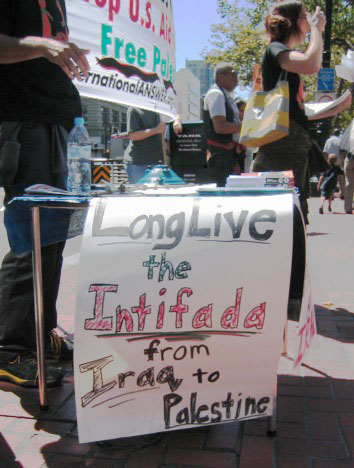 First order of business was to set up a pro-intifada table. It was immediately apparent that this rally wan't just about the hunger strike -- it was more of a general attack on Israel and the United States.



The San Francisco Voice for Israel (SFVI) folks showed up and quickly made it obvious they weren't going to be overshadowed. They plastered the plaza with no-nonsense messages and stood face-to-face with their opponents.



Let the battle of ideas commence!



The anti-Israel crowd was not about to back down. Banners were unfurled, chants were chanted, signs were brandished, fliers were proffered.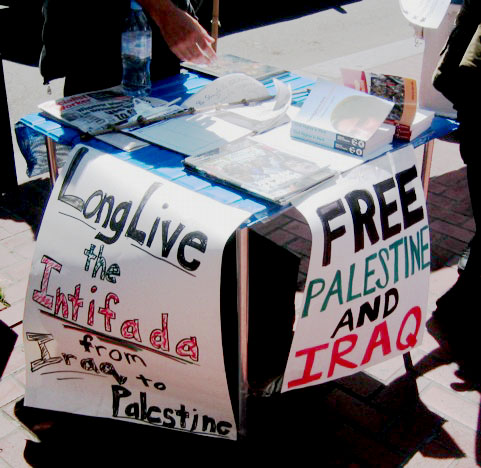 Plenty of Marxist literature was on sale.



Out come the swastikas!



This sign deserves a closeup. Do these people have any idea that the majority of onlookers don't grasp the supposed irony of the swastika display, and presume the sign-wavers are themselves espousing Nazi ideals?



Sieg heil!



SFVI grabbed all the best vantage points -- and displayed the most potent messages.



Tourists getting off the cable cars were greeted by a bewildering profusion of conflicting messages, unaware that two different groups were protesting at the same time.



A gay Israel supporter (notice the rainbow flag) takes "Have a nice day" to a new level.



They say that the side with the best sense of humor always wins the argument.



Though I doubt the clever-but-awkward neologism "Hamaside" (Hamas+homicide) is going to catch on anytime soon.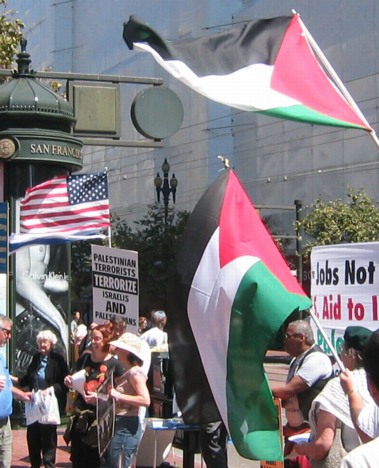 Duelling flags fluttered in the summer wind.



In the middle of the fracas sat a protester with a completely different kind of message, thoroughly enjoying all the extra attention he was getting.



Passersby couldn't quite figure out how this particular sign helped the Palestinian cause.



Such a touching display of emotion...



between someone devoted to the destruction of Israel (her t-shirt shows a map of "Palestine" filling the entirety of Israel) and...



a Nader voter (the button on her purse says "VoteNader.org"). You both deserve a good hug.



But this guy was far and away my favorite character of the day.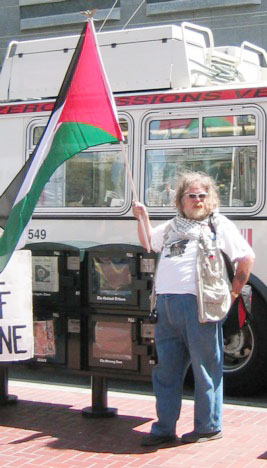 He stood for a while with the main group of anti-Israel protesters, waving a Palestinian flag.



Then he took up a new position directly in front of the SFVI crowd.



I moved in for a closeup.



But he proved a bit camera-shy and headed off in a different direction.



I kept snapping as he passed by.

Let's take a closer look at all his fascinating iconography:


First and foremost: a big Palestinian flag.



An Arafat-style kaffiyeh is an essential fashion statement at any self-respecting rally.



And don't forget the Che Guevara patch!



And the double Che shoulder-bag (with Big Che and Baby Che)!



His T-shirt sported the message "Israeli Crowd Control" underneath a picture of a bullet.



"End Israeli Occupation of Palestine" says the button.



But in case you get the wrong idea: it's all about "Peace," man.