Violent Berkeley Riot Causes Cancellation of Milo Yiannopolous Speech




Berkeley, February 1, 2017




A long-anticipated speech by Breitbart.com editor Milo Yiannopolous was abruptly canceled Wednesday evening after protests outside the U.C. Berkeley event quickly escalated into a violent riot.

Rockets and incendiary devices were fired at police, the Student Union campus building where Milo was scheduled to appear was besieged and severely damaged, Trump supporters were assaulted, fires were ignited, and the riot then spilled out onto city streets where windows were smashed and businesses vandalized.

This page contains videos and photos of the riot taken by me, documenting the violence -- as well as additional videos taken by other witnesses showing assaults on Milo supporters.

Much of the violence was at first initiated by a large contingent of masked self-styled "anarchists," but they were cheered on and encouraged by the overall crowd of several thousand protesters who chanted "Shut it down!" and "Fuck the police!" as the black-clad anarchists began smashing things up and throwing firebombs. When it was announced that Milo's speech had been canceled, the entire crowd of protesters (not just the anarchists) erupted into celebration. Some of the crowd then dispersed into city streets where they committed more violence and vandalism over the next several hours.

Left-wing campus groups had been planning the riot for months, as detailed in "The Official Anti-Milo Toolkit," a comprehensive strategy document prepared by a coalition of leftist organizations outlining exactly how to get Milo's Berkeley appearance canceled, and providing shockingly fascistic rationalizations as to why free speech should not be allowed for conservatives.

Several Milo supporters and presumed Trump voters were also assaulted before and during the riot; although none of these assaults were witnessed by me personally, they are documented and described in some of the many news articles written about the incident. Here is a small sampling of the extensive media coverage detailing the anti-Milo Berkeley riot:


UC Berkeley cancels right-wing provocateur's talk amid violent protest

Chaos erupts, protesters shut down Yiannopolous event, banks in downtown vandalized

Trump supporters attacked outside Berkeley Milo speech

Riot Forces Cancellation of Yiannopoulos Talk at UC Berkeley

Rampaging, Masked Protesters Destroying Berkeley Campus, Setting Fires, Over Milo Speech

Violent Leftists Chase and Beat Man Unconscious at Berkeley Riots

All of this took place, ironically, on U.C. Berkeley's Sproul Plaza -- the exact location where the Free Speech Movement was born in 1964. Now Berkeley students are instead determined to end free speech.

Since the news articles above provide extensive details about Milo, his speaking tour, and the night's events, I will keep the commentary in this report to a minimum and let the images for the most part speak for themselves.


---

VIDEOS

We'll start with several videos showing different aspects of the riot -- followed below by several photographs of the protest.


This video shows protesters firing rockets, incendiary devices and fireworks directly at police -- who were instructed to stand their ground and not respond to provocations. Amazingly, the police guarding the building restrained themselves, despite enduring an almost military-style artillery barrage, which for all they knew could have involved real explosives.


This is a three-minute compilation of various riot scenes, primarily showing protesters at the beginning of the riot tearing apart the police barricades and then attacking the building, smashing windows and setting off smoke bombs.


Midway through the riot the protesters ignited a massive fire directly in front of the Student Union building, with the flames reaching up to the level of the second-story room where Milo was preparing to speak.


This moment captured from a live broadcast on KPIX-TV shows an interview with a blood-soaked Milo supporter who has just been assaulted by left-wing protesters.


After Milo's speech was canceled, the riot spilled out onto Telegraph Avenue just south of campus, where (as shown in this chaotic video) any passersby presumed to be Trump supporters were assaulted, beaten and knocked to the ground. During the attacks shown here, protesters were shouting "Beat his ass!"


This woman, wearing a red hat that was probably mistaken by the leftists for being a Trump hat, was pepper-sprayed by one of the rioters, live on television.



PHOTOS

These photos show various calmer moments during the early (pre-riot) part of the protest, as well as various signs and messages held by protesters -- and of course scenes from the rioting itself.



The protesters universally dehumanized Milo and his supporters as "Nazis," which is what allows the leftists to justify in their minds any violence against their political opponents.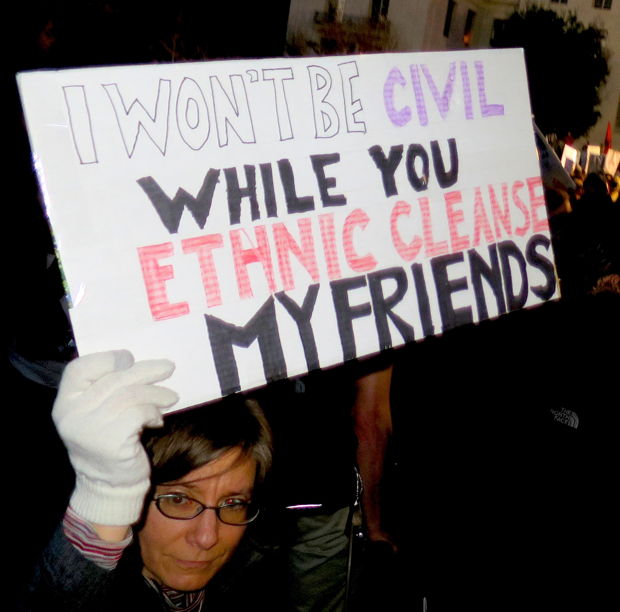 Even those who didn't personally commit violence contributed to the mindset which allowed it, by comparing Milo's comedic speaking tour to "ethnic cleansing" and genocide. People such as this woman think they haven't bloodied their own hands personally, but they all cheered when violence erupted.



This overall scene shows the crowd gathering outside the Student Union building, where a fire has broken out; Pauley Ballroom, the second-floor venue where Milo was inside preparing to give his speech, can be seen through the windows; the police are positioned on the balcony, pointing their guns (apparently loaded with non-lethal anti-riot munitions, according to reports) at the crowd below.



Can't have a decent protest without at least one appearance by Che Guevara...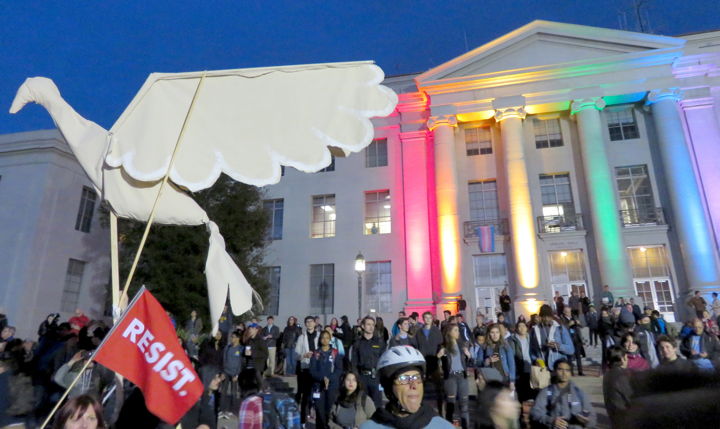 ...and of course a tried-and-true giant puppet -- in this case, an insulting "peace dove" to prove that the protest really wasn't a violent riot at all. Behind, Sproul Hall was illuminated in rainbow colors as some protesters had planned to turn Sproul Plaza into a massive "gay dance party" with music so loud that it would drown out Milo's speech; this plan was abandoned after the entire protest disintegrated into violence.



Some protesters gave their tacit approval of the violence by carrying signs showing the "black cat" symbol, which began in the early 20th century as a secret message among IWW union members to commit sabotage during strikes, but which has since evolved in recent years to be a code encouraging violence by anarchists at street protests.



Right on cue, a large contingent of riot-minded masked anarchists showed up. This was not unexpected -- their participation had been part of the planning process for months. The "Official Anti-Milo Toolkit" even encouraged protesters to wear masks so they could not be identified during the melee: "Some people have found it useful to anonymize themselves (e.g., through wearing face masks and/or bandanas)...".



Smashing.



Fleeing.



Riot in full swing.



Looking through Sather Gate, the campus' iconic entryway, toward the protest on Sproul Plaza. A fire can be seen starting to burn in front of the Student Union building, where Milo's speech was to be held.



The fire, which was caused by an incendiary device thrown by the rioters which then ignited a piece of lighting equipment, quickly grew into a major blaze. A protester held up a sign in which the word "NO" was silhouetted against the flames.



Those who noted that the anarchists seemed like a "paramilitary organization" were correct -- but they were a left-wing paramilitary organization, and not a secret army of Breitbart News editors and KKK members engaging on a massive false-flag operation to discredit Berkeley -- an outrageous conspiracy theory that would be utterly laughable were it not repeated on national television by mainstream Democratic politicians. There is no limit to the extent and magnitude of the lies leftists will tell to absolve themselves of blame.



Police are visible inside the building as rioters begin throwing rocks and incendiary devices. Note that many of the protesters carried poles and sticks that were intentionally intended to resemble gun barrels -- one of the main goals of anarchist rioting is to induce an over-reaction by the police, so that they can later be accused of "brutality" against "innocent unarmed protesters." To that end leftist rioters will throw almost-bombs and carry almost-guns to scare the police into panic mode. However, the Berkeley police are extremely well-trained in these tactics and gimmicks, having endured such riots and taunting for decades, so they did not flinch nor over-react as the rioters had hoped.



Protesters setting off fireworks and smokebombs.



"Capitalism sucks." Such fun!



Nazi...



...Nazi...



...Nazi. Dehumanize much?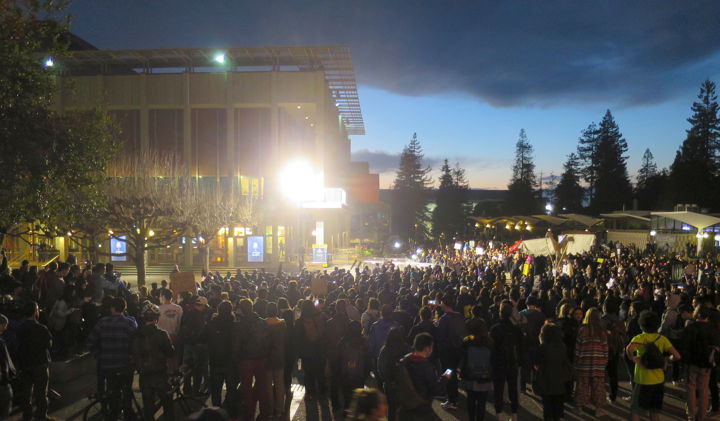 What the protest looked like when it first started, before any violence broke out.



Very good question. Why would such a not-particularly-well-known comedian inspire such violent outrage?


---

To comment on this report, go to this post about it at Zomblog which has an unmoderated comments section open to all.





(Click here to return to the main zombietime page.)