Impeachment Weekend




A photo report covering five impeachment-themed events held in San Francisco on April 27 and April 28, 2007



Why organize just one impeachment event when you can have five? That seems to have been the philosophy of activists in San Francisco on the last weekend of April, 2007, when a veritable cavalcade of protests calling for the impeachment of George W. Bush and Dick Cheney were held at various locations around the city on Friday, April 27 and (especially) Saturday, April 28.

This page contains reports on all five events. You can scroll down through the page to read about all of them, or you can click on the table of contents below to go directly to any particular event of interest.

Blimp Launch at Pelosi's Office

Beach Impeach II

Impeachment March and Caravan

Impeachment Protest at Pelosi's Home

Kucinich Cheney-Impeachment Speech at the New Living Expo

Let the proceedings begin!

.
Blimp Launch at Pelosi's Office

Impeachment Weekend kicked off with a Blimp Launch outside Nancy Pelosi's congressional office in the Federal Building at 450 Golden Gate Avenue, at noon on Friday, April 27. The event had a long list of organizational sponsors, including ImpeachBush-Cheney.com, Project Censored, and Code Pink. But when the time came, so few people actually showed up that the only picture I feel comfortable posting is this one, of the "blimp" in "flight."

I was in fact lured out to the event by the promise of an actual Impeachment Blimp, and was somewhat disappointed to find merely a tethered Blimp-Shaped Impeachment Balloon. A smattering of sonorous speakers gave speeches calling on Nancy Pelosi to jump on the impeachment bandwagon. Luckily, "SFMike" of the Civic Center blog was also on the scene, and produced a short report about the blimp-launch here.

.
Beach Impeach II

The original Beach Impeach I (held in January) was such a success that its organizers decided to take the idea nationwide and schedule a series of spell-IMPEACH-with-your-bodies events around the country, all to be held at the same time on April 28. A second, and grander, Beach Impeach II was to be center stage. When I showed up at 10:30 on Saturday morning, the action (as you can see) was already well underway.



Beach Impeach mastermind Brad Newsham, a relentlessly enthusiastic and always friendly cab driver, was already striding amongst his fans and followers, giving orders suggestions with his bullhorn.



"World Can't Wait" acolytes showed up dressed as Guantanamo Bay prisoners. These guys somehow managed to look both sinister and goofy at the same time.


Click on the video to hear a World-Can't-Waiter announce the day's multi-event impeachment schedule.



Beach Impeach II was going to outdo Beach Impeach I, this time spelling out not just "IMPEACH!" but the more ambitious "IMPEACH NOW!" Various activist groups sponsored individual letters: World Can't Wait took dibs on the exclamation mark, turning it Guantanamo Orange.



Code Pink laid claim to the C.

The Green Party sponsored the "I", but they didn't all wear green so the effect was less impressive.



Team "O" encouraged us all to "Visualize Bushlessness."



After scouting around for a while for an empty space, I settled on a good spot in what looks like the "A."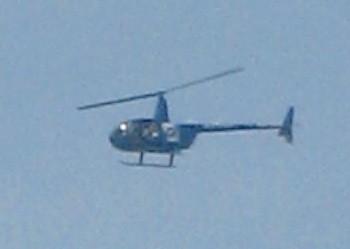 Then the moment of truth! The helicopter arrived, carrying the all-important aerial photographer.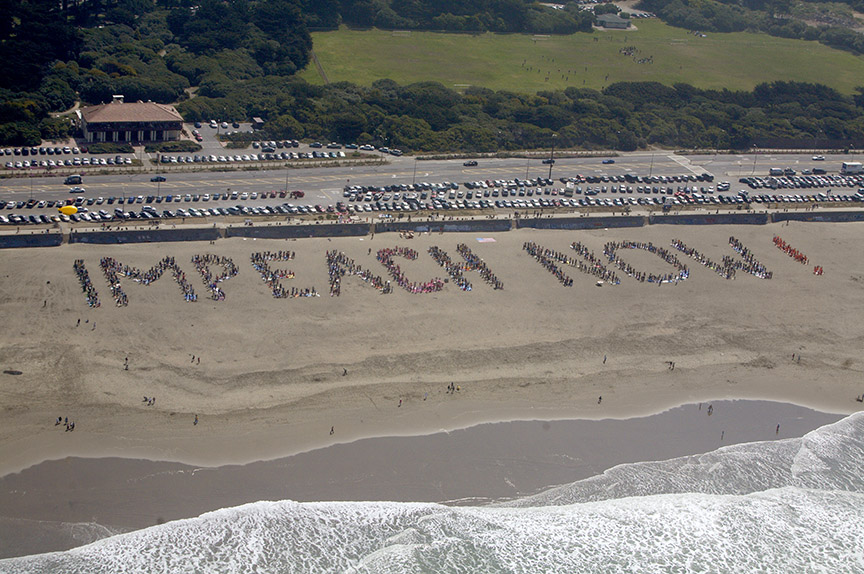 Say cheese! We all posed for several shots. (Photo courtesy of David B. Page of BeachImpeach.org.) Notice the pink tint to the C and the orange-colored exclamation mark. That's me in the A. Hello!


It was time to celebrate! Click on the video to watch revelers dance the Impeachment Mambo to the Zimbabwean sounds of the all-marimba band Sadza.



Well, whaddya know? Our old friend the tethered Blimp-Shaped Impeachment Balloon made a repeat apearance as well.



UFO reports were up 38% in San Francisco over the weekend.



Discarded in the sand was this sign advocating for a nuclear Iran.

The photo shoot was over, but the party had just begun. I went up to the esplanade overlooking the beach, where hundreds of impeachment aficionados were "networking." Below are portraits of just a few of them.



Count me in too! Doesn't everybody love a good revolution?



We will not be silent...about these delicious chocolate animal cookies! Here, have one.



This guy walked around with an Alberto Gonzales box-head, producing a rather startling effect.



Interesting tattoo: bombs dropping.



A member of the local "alternative media" interviewed a younger-than-average member of Code Pink.



A first I thought this must be a joke (seeing as it came from "Comic News"), but I soon learned that "Truthism" was almost as prevalent at the event as was impeachment itself.



The 9/11 conspiracy-theory booth was always surrounded by an eager crowd.



"What About WTC7?" asks the shirt. Because, as everyone knows, fire has never melted steel!



A man, an orange jumpsuit, an ocean.



As always, kaffiyehs were the fashion statement du jour.



The misspelling on this sign so unnerved some orthographic impeachmentista that...



...she made a corrected version and propped it up against the placard.



Hypnotic!



UN flags were on sale as well, for the internationalists.



Up in the parking lot, this car's owner fashioned his own 2008 presidential ticket. Might be a winner!



Old conspiracy theories and new. ("CIA: We Put the Coke in America" says the middle sticker.)



As the beach event broke up, the anti-capitalist World Can't Waiters piled into their gas-guzzling SUVs. Ahem.


Scottish stand-up comedian Mark Day was also at Beach Impeach II, and created this hilariously sacrastic video report.

.
Impeachment March and Caravan

As Beach Impeach II wound down, the time had come to start the cross-town Impeachment March and Caravan, eventually ending up at Nancy Pelosi's private home. Some people drove decorated cars in a vehicular caravan.



Other people were going to walk all the way, in a more traditional protest march. I joined the people milling around, waiting for the trek to begin.



After a long period of indecisiveness, during which all the impeachment momentum was lost and causing many would-be marchers to wander away, we were finally off! The police kindly escorted us and gave us directions the entire way.



An electric golf cart led the parade, pulling a portable Gandhi statue along the route.


Click on the video to watch the Impeachment March wend its way through Golden Gate Park.



It was a long slog. Pelosi's house is several miles -- most of it uphill -- from Ocean Beach.



Along the way, we passed close to Temple Emanu-El, San Francisco's largest and oldest synagogue, which a few weeks earlier had a swastika painted on the wall. The graffiti had been quickly covered over, but as the march passed nearby I took a quick detour to see if I could detect any trace of of it, and sure enough -- I found what looked like it could be the remnant of a painted-over swastika (though I couldn't be sure).



Part of the original plan for the march -- announced surreptitiously to certain members of the activist community -- was to make a stop at Senator Dianne Feinstein's house, and hold a protest there, before heading over to Pelosi's house. We did in fact pass right near Feinstein's house, but for reasons unknown (possibly discouragement from the police escort, though I was too far back to see), we just kept going right on by, without stopping. I snapped this picture of what some of my fellow marchers said was Feinstein's home, which certainly was fabulously beautiful (the tiled dome in the background is not part of her house, but is in fact the dome of the synagogue, which sits on an adjacent property).

.
Impeachment Protest at Pelosi's Home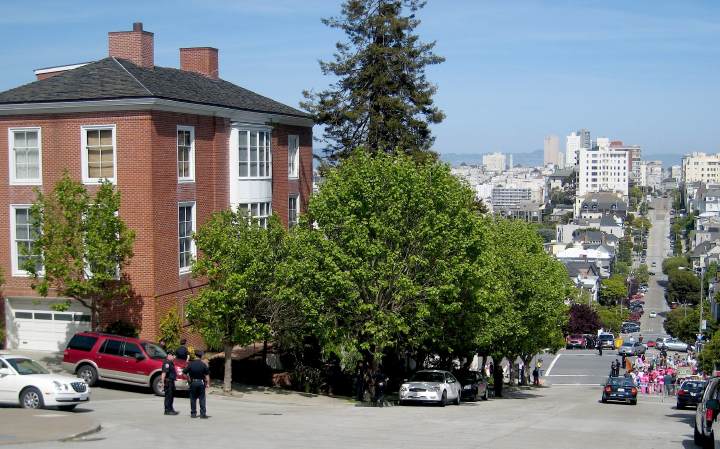 After a long trek from the Beach Impeach II event at Ocean Beach, us stragglers finally made it up to Nancy Pelosi's private home, where we joined up with the faster walkers and the vehicular Impeachment Caravan, which had both arrived earlier. To everyone's disappointment, the police had completely cordoned off Pelosi's house (the brick building seen on the left), and forced the protesters to occupy a fenced-off area on the adjacent intersection (seen on the right).



The cops had us completely surrounded. I suspect they did not want to see a repeat of the Camp Pelosi fiasco.



Code Pink joined forces with World Can't Wait (what a combination!) to tell the crowd, the police, Nancy Pelosi -- hell, anybody -- that Bush and Cheney must be impeached immediately if we have any hope of saving the planet.



The crowd listened intently to the jeremiads.



The police made sure that the city was safely quarantined from the highly contagious impeachmentitis.



I slipped outside the cordon and took a picture of the protest from the other side of the street. From this angle, it seemed rather picayune.



Ersatz Guantanameras denounced everything even remotely American.


Sadza, the Zimbabwean marimba band we saw earlier in the day, came along for an encore. Click the video to watch a celebrant dance the Kaffiyeh Impeachment Shuffle to Sadza's mallet-happy sounds!



With Nancy Pelosi's brick house visible in the background, protesters hoist the word "IMPEACH."



"You load sixteen tons, and what do you get? Another day older and Bush still in charge..."



After a very long day of impeachment activities, some of the protesters were starting to droop. This young woman seemed to fall asleep on her feet, still bravely holding up a peace sign.

.
Kucinich Cheney-Impeachment Speech at the New Living Expo

But wait! Impeachment Weekend was not over yet! Later that evening, Dennis Kucinich was scheduled to give a speech at the New Living Expo elsewhere in San Francisco, where he was going to declare the rationale behind his bill calling for Cheney's impeachment.

However, I was too exhausted to attend. A fellow blogger who also planned to go also was too tired.

In fact, as far as I can tell, no one went to Kucinich's speech that night, as I was unable to find a single report on it, either in the mainstream media or on the blogs. (If you know of one, send me the link.)

Could it be that the activist community had finally reached impeachment burnout? I know I had.



---


Finally, Impeachment Weekend had come to an end.

But how many more Impeachment Weekends must we endure until November, 2008?









(Click here to return to the main zombietime page.)