THE BOTERO "ABU GHRAIB" PAINTINGS AT U.C. BERKELEY




Berkeley, California, January 29, 2007



In 2005, renowned Colombian artist Francisco Botero unveiled a series of over 80 paintings and drawings which depicted stylized renditions of the prisoner abuse by American guards at Abu Ghraib prison in Iraq. Though these artworks have subsequently been exhibited a few times in Europe, they had until now never been shown in the United States except for a small show at the private Marlborough Gallery in New York. So when the Center for Latin American Studies brought Botero's Abu Ghraib paintings to Doe Library on the University of California campus, it was billed as the series' "American premiere."

I attended the opening night festivities on January 29, 2007, where these photos were taken.

Botero has stated in several interviews, including this one in a San Francisco Chronicle article about the Berkeley exhibit, that he intended to create a modern-day "Guernica," referring to Picasso's famous painting of the Nazi bombing of a Spanish town in 1937. As Botero puts it, "Art is a permanent accusation."

Botero admits that his paintings don't depict what actually happened at Abu Ghraib; instead, inspired by the famous Seymour Hersh article about the abuses at the prison, Botero simply wanted to "visualize what was really happening there." (Fake but accurate?)



Even though I showed up nearly an hour early, I had grossly underestimated the event's popularity; there was already a huge crowd waiting the enter the library.



The line snaked back through the campus. And there was another long line inside the library of people hoping to get in from the other direction. Yet due to safety regulations, only a small number could be let in at a time; it took nearly two hours before I made it inside.



Throngs of people were crowding around Botero (seen here with glasses and beard); I snapped this picture of him giving an autograph to an admirer.



Nearby, a woman appreciated one of the paintings, all of which featured Botero's trademark swollen, chubby bodies.



A triptych of abuse.



Earlier in the day before the exhibit opened, Botero was interviewed on stage by Robert Hass, former Poet Laureate of the United States. You can watch a webcast of the entire hour-long interview here, in which Botero says he purposely gave the Abu Ghraib detainees a "biblical" dignity, Hass describes the prisoners as nothing more than "kids from the streets of Baghdad," and a World Can't Wait cult member asks Botero's permission to create tableaux vivants (human real-life recreations) of his painted scenes. An article (with photo) about the interview can be found here.

The picture above shows Robert Hass at the exhibit opening being interviewed by a camera crew.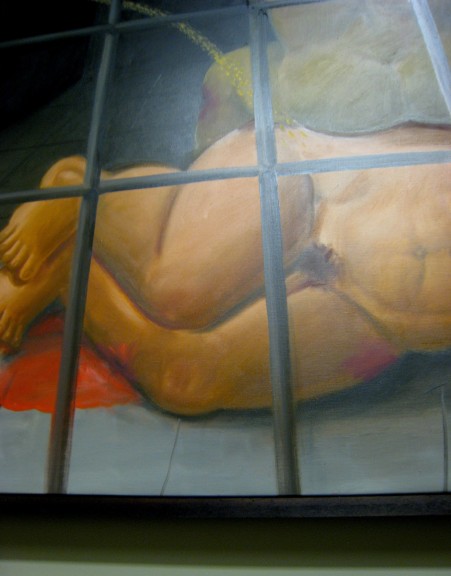 A stream of yellow urine from an unseen guard descends on a prisoner's penis.



The entire time, fans surrounded a smiling Botero and showered him with praise.



I call this photo, "Towards a Meditation Upon a Grainy Boot."



This photo has nothing to do with the Botero exhibit, really. It was part of an unrelated display of radical publications in the library lobby that everyone had to file past on their way into the exhibit hall. I just thought it was worth recording for posterity, reflecting as it does the prevailing mindset on the U.C. campus.

THE PAINTINGS

Below, I present a selection of paintings and drawings from the Botero Abu Ghraib series. Most or all of the artworks shown here were on display that evening, but the following jpegs are from press releases and other sources, since they are much clearer than photos taken freehand in the exhibit hall.



As with many of the other images, this painting shows a fantasy scenario, not something that actually happened: there are no allegations that dogs ever injured prisoners, and those dogs that were used to intimidate them were German shepherds, not demon dogs.



This was one of several paintings showing streams of yellow urine.



The infamous panty humiliation.



This picture shows a prisoner being sodomized by a baton; there are no known photographs of such an incident ever happening, though one prisoner later made an unverified claim that it did happen.



One of the many images that beatify the detainees, showing them in poses reminiscent of religious iconography.



One of the best-known of the Abu Ghraib paintings, reproduced on various brochures and posters.



Here we see one of the prisoners vomiting.



The glamorization of martyrdom.



Another fantasy scene not known from photographs. It is a reference to the saintly "hanged man" from the tarot deck.



A pencil sketch of something that actually did happen -- dogs used to intimidate prisoners.



A beating, with spurting blood.


LINKS

The Belgravia blog has an excellent concise analysis of the Botero Abu Ghraib series: "Botero's Empty Outrage."

The Culture Industry blog also has an outstanding essay on the "Crucified Smurfs" of the Abu Ghraib paintings

The International Herald Tribune carried an article about the Berkeley Botero art opening.




(Click here to return to the main zombietime page.)