Ban Ki-moon in San Francisco




Interrupted by gay rights activists while giving speech, after earlier ceremony




San Francisco, July 26, 2007



Ban Ki-moon, the Secretary-General of the United Nations, was interrupted by gay rights activists as he gave a speech to the World Affairs Council in San Francisco's Fairmont Hotel, on the evening of July 26, 2007.

The video below shows the interruption as well as the aftermath, when the protesters were escorted outside by security and police.

[If you wish to license any of the material on this page for commercial broadcast or publication, please contact me at zombie@zombietime.com.]


(To view this video on its own page, click here.) If for some reason you can't view the video above, you can also see the same video on YouTube here.

Photos of this incident, including freezeframes from the movie clip, can be found at the bottom of this page.

Here's a transcript of the dialogue in the video:


Gay rights activists: [Holding up signs] Gay rights! We need you to talk about gay people around the world! Talk about gay people! ... For people who don't have a voice! Talk about gay people! They have no voice! Talk about gay people! We have no rights. Speak out for them! Gay people are being--
Ban Ki-moon: This is OK, an unusual welcome for me.
Audience: [Laughter, clapping.]
[Security guards apprehend the activists and usher them up the aisle.]
Ban Ki-moon: As the Secretary-General, I'm supposed to answer all the questions which humans experience in this world.
Gay rights activist: Talk about gay rights! Talk about gay rights!
Ban Ki-moon: Unfortunately, I'm not supposed to answer to any certain questions which --
Gay rights activist: TALK ABOUT GAY RIGHTS! TALK ABOUT GAY RIGHTS!
Audience member in the distance: Will you shut up?
Gay rights activist: TALK ABOUT GAY RIGHTS!
[Gay rights activist is escorted out of the room.]
Ban Ki-moon: Gay rights group issue is very sensitive, and...
Security guard: [Warning the activist, speaking very quietly] You're not going back inside...
[Guards and policemen force the activist to leave the building entirely.]
Policeman: [On phone] Hunh? ... OK, maybe it's a terrorist attack. OK, very good. Meet me out-- We just had to evict some bums out of here. Alright, very good. Thanks.


---

But -- wait a minute. I'm getting ahead of myself. Let's go back a few hours and start earlier in the day.



After a morning stroll through the city's Ferry Building, Ban Ki-moon spent the afternoon at San Francisco's War Memorial Veterans Building, which is sacred ground for all U.N. officials -- as it was here, on June 26, 1945, that the United Nations charter was signed by the founding members.



A cotillion of VIPs gathered in the building's Herbst Theatre to hear the Secretary-General wax nostalgic about the birth of the U.N. Here on the stage addressing the gathered dignitaries are (left to right): Yoo Soon-taek (wife of Ban Ki-moon); Ban Ki-moon (U.N. Secretary-General); the head of the local United Nations Association chapter; Charlotte Mailliard Shultz (Chief of Protocol of San Francisco, and wife of former Secretary of State George Shultz); and Gavin Newsom (Mayor of San Francisco).



Newsom took the podium and warmed up the crowd with a few jokes.



But no matter how hard he tries to appear human...



...he always ends up looking like Satan.



Ban stood there stoically, waiting for his turn..



A little too stoically at times.



Newsom woke him up by presenting him with the Key to the City.



"Thank you! Now what the hell am I supposed to do with it?"



Ban spoke dreamily of the utopian vision of the U.N.'s founders.



Newsom looked on...approvingly? Smugly? It was hard to tell.



Ban's command of the English language was somewhat less than masterful. It was hard to understand what he was saying at times. Jet lag may have played a role as well.



One of the special features of the ceremony was that the presenters were surrounded by a semi-circle of historic flags for each founding member state with the exact designs they had in 1945 (e.g. 48 stars on the US flag, and so on).



After the speeches, Ban pressed the flesh at an exclusive reception. His personal bodyguard (on the right) looked strikingly like a lean-and-hungry Ralph Nader.



Charlotte Schultz (on the left) seemed to take great joy in her role as Mistress of Etiquette. Legend has it that she's the most influential woman in the state, a combination of Feinstein, Boxer and Pelosi, but working entirely behind the curtains.



Everyone came under scrutiny.



A string trio entertained the crowd with baroque minuets, until it was time for everyone to leave.



Back outside, the lawn in front of City Hall looked like a Civil War battlefield: bodies lay strewn everywhere. But they weren't dead -- they were just "domicile-challenged individuals" (i.e. bums) having a snooze with the pigeons on a muggy day. A rather vivid illustration of San Francisco's intractable "homeless problem."



Up up up Nob Hill we go, to the next event on Ban's itinerary: a speech to members of the World Affairs Council at the ritzy Fairmont Hotel. TV broadcast vans were already in evidence on the surrounding streets.



Oops -- we're supposed to address him as "Your Excellency." Now they tell me. I'd been calling him "Hey you!" all day.



The event was to take place in the Fairmont's Grand Ballroom -- filled with exactly 1000 20th-century chairs. This is what it looked like before anyone was let in.



And after the floodgates were opened -- this is what it looked like a short time later. Standing room only.



This is where the real hardcore Ban Fans showed up. People were even having souvenir pictures taken with just his name in the background.



After being fashionably late, The Man of the Hour showed up to wild applause.



He began to talk about...something or other. I'm ashamed to say I lost track of what it was. (If you're interested, a totally bland mainstream news report about Ban's visit and this speech can be found here in the Washington Post.)



Huge screens off to either side helped people in the back watch the action.



Lights were dimmed, creating an aura effect, and the crowd listened intently. Which was the perfect moment for...



...the protesters to seize the opportunity for maximum exposure! See the video at the top of the page for a real-life documentation of what happened. And while that video was being taken, another photographer by the name of Clinton Fein was snapping these four pictures, which he was kind enough to let us share. (Click his name to see more images from the event.)



A pair of gay rights activists leapt from their seats brandishing signs saying "Gay Rights are UNiversal!", which they tried to show to Ban, and to the audience as well.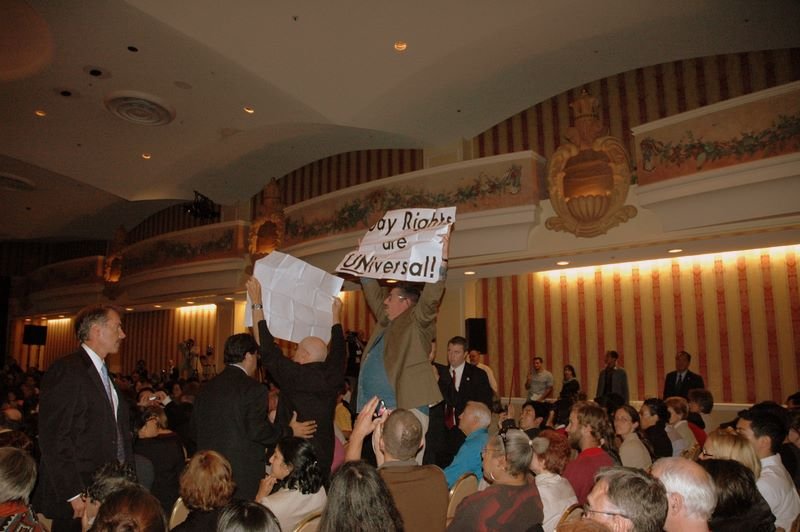 The protester seen here on the right (Michael Petrelis) actually has his own Web site, and has already blogged about this demonstration, linking to this very report!



The security guards glommed on to them and hustled them out of the ballroom.

For those of you who can't watch videos on your computers, here's a montage of screenshots showing the action:



After that outburst, things settled down for a quiet evening of diplomat-speak.



When the crowd exited the Fairmont, another typical San Francisco scene presented itself: the traffic lights at the intersection of Powell and California were broken, leading to chaotic vehicular madness, with SUVs and cable cars and arm-waving cops going every which way.

Only in San Francisco. Which is pretty much true for everything we'd seen today.




(Click here to return to the main zombietime page.)