Rally Against the Iranian Regime, on the U.C. Berkeley campus, Nov. 1, 2005



On November 1, a group of Iranian expatriates (and their supporters) held a rally and press conference at the entrance to the U.C. Berkeley campus, at Bancroft Way and Telegraph Avenue. The event was announced through an online press release and a notice on Yahoo news.

The event was arranged as a response to the statements by Iranian president Ahmadinejad calling for Israel to be destroyed and "wiped off the map."

Iranians in the United States -- many of whom fled here to escape the Islamic revolution in 1979 -- were outraged by the anti-Israel comments, and wanted to let the world know that not all Iranians support these extremist views. At the rally, they not only condemned Ahmadinejad's statements, but they warned of Iran's impending acquisition of nuclear weapons, and called for the overthrow of Ahmadinejad and the entire Islamic regime.

Any protest such as this held inside Iran would have been illegal, and the protesters would have been immediately arrested and most likely executed.



Most of the messages on display got right to the point.



Ahmadinejad (crossed out here with a red "X") was seen by the protesters as the embodiment of the Iranian regime.



The group that arranged the rally were supporters of the National Council of Resistance of Iran, a shadow government-in-exile that supports democratic ideals and which is waiting to take the reins of government once the mullahs are overthrown. Maryam Rajavi is their current "President-elect."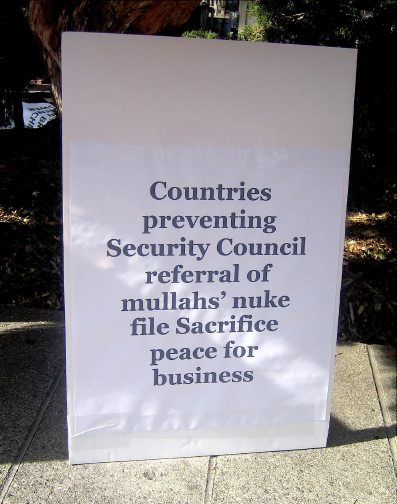 The only media in evidence was a camera crew from the local NBC affiliate...



... and someone who looked like a student reporter who was taking notes.



All in all, there were only about 15 protesters on hand. As far as I'm concerned, there should have been 15,000 protesters, since the nuclear crisis in Iran is one of the most dire situations facing the world today. Where were all the "anti-war" protesters who find time for every other rally?



At least one person understands the seriousness of the situation.



This student in a hijab noticed the rally on her way to class. She stood for a while, trying to figure out what the protest was about. Once she grasped the message, she quickly walked away with an expression that seemed to say, "There's no way I'm going to get involved in that!"



On one side of the rally was a display board illustrating human rights abuses in contemporary Iran.



Public hangings.



Public floggings.



A woman being buried up to her chest in preparation for being stoned to death.

Is it any surprise that as many as 5% of people in Iran are heroin users?



(Click here to return to the main zombietime page.)