Presidential Campaign Sunday




a visit to three different presidential campaigns on one fateful day





starring Hillary Clinton and Frank Moore and a t-shirt depicting Barack Obama





Oakland and Berkeley, September 30, 2007



It's not often that three different presidential campaigns all hold events within a few miles of each other, all on the same day. But that's exactly what happened on September 30, 2007 when Hillary Clinton appeared at a rally in Oakland, California, the Obama for President campaign held a grand-opening celebration for its headquarters just a few blocks away, and third-party candidate Frank Moore greeted supporters at a parade in nearby Berkeley.

So I took this rare opportunity to visit each of the candidates' campaigns one after the other, and assess their chances for election.

Among these three: Who is the most appealing candidate? Who has the best chances for success in November, 2008? Let's check it out -- in person!



My campaign day started at the "How Berkeley Can You Be?" parade, an annual event dedicated to extolling the city's legendary kookiness. Every year, however, the parade has been getting smaller and smaller, as interest in it seems to wane, and the 2007 parade was the smallest ever, with just a handful of participants and a diminishing number of disappointed spectators lining the streets. Rumors circulated that this year's turnout was so low that it may spell the demise of the "How Berkeley Can You Be?" parade altogether, as municipal organizers give up on the idea.

But I was there for just one reason, to see the only presidential candidate making a campaign appearance in the parade: Berkeley's own Frank Moore.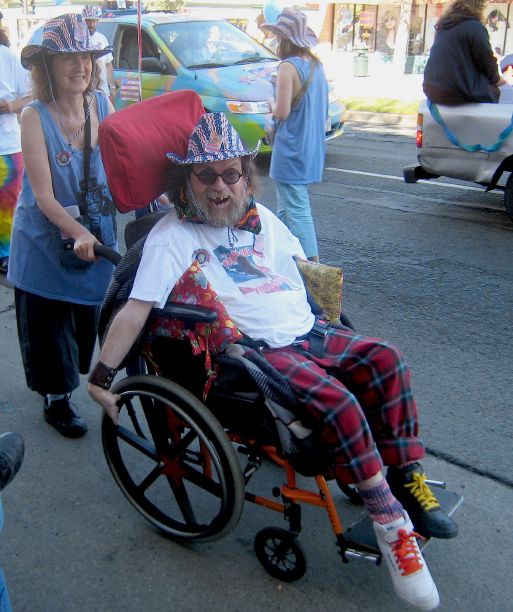 To say that Frank Moore is merely a "local eccentric" is to vastly underestimate his eccentricity. Suffering from cerebral palsy since birth, Moore nonetheless has had a remarkably successful career as a "performance artist" in a wide variety of fields. Despite the fact that he has little muscular control, cannot speak, and sometimes drools on himself when he gets excited, Moore manages to produce and star in a cable-access TV show, stage hours-long "erotic" performance extravaganzas that often involve the audience in sexual interactions, "dance" with experimental musical groups, paint artworks, write articles and books, and teach acolytes. He has gathered around him a small coterie of fervidly devoted assistants who do most of his physical actions for him, and with whom he communicates via a laser pointer attached to his head which he uses to spell out words on a specially designed alphabet board. He has also developed his own spiritual philosophy which has evolved into what is a practically a one-man religion.



What's all this got to do with presidential politics, you say? Everything! Because Frank Moore recently declared his candidacy for President of the United States. He even started his own political party, "The Just Makes Sense Party," and chose as his running mate sex activist Dr. Susan Block.

To legitimately compare Frank Moore to the other candidates we'll visit later today, let's take his campaign seriously and see where he stands on the issues. Luckily, he has published a fairly comprehensive platform on his campaign Web site. It turns out that Moore has some very creative ideas that totally overturn the outdated concept of a left/right divide in political thinking. Here are a few highlights which I find particularly intriguing:

• "I'll do away with welfare and social security. Instead, every American will receive a minimum income of $1,000 a month."

• "Government should leave marriage to churches. Instead, any two or more adults who have been living together for at least 2 years should be able to register as a 'family.'"

• "An individual taxpayer will be able to direct her taxes to what functions she wants to support. But corporate taxpayers should not have this option."

• "All businesses selling their products in the U.S. will have to certify that their products were manufactured in accordance with this country's labor, wage, environmental, and safety laws."

• "The use of drugs should be legalized and taxed. Pot and spirits should be sold over the counter to adults only. Tobacco and other addictive drugs should be sold by prescription only."


Others of his positions are admirable in principle, but seem overly optimistic in that they're simply unaffordable:

• "We will have universal prenatal-to-the-grave health care and universal free education with equal access."

• "Public mass transit will be free, 24/7, and reliable."


As for foreign affairs and national defense, Moore seems to be very much an old-school peacenik:

• "I'll cut the military budget by at least half."

• "I will destroy 10 percent of our nuclear weapons each year to reverse the nuclear arms race."

• "We will stop giving/selling arms to other countries. All private arms sales should be illegal."

• "I will bring the troops home from Iraq immediately."

Though in an interview he declared that he will support an independent Israel, alongside a new Palestinian state -- a position pretty much identical to that of the Bush administration:

• "I'll work for a sustainable Israel and sustainable Palestine with the civil and human rights insured for all the inhabitants of both nations. In other words, my policies would be even-handed. "

In the same interview, after discussing his anti-militaristic policies, he added this intriguing and dire warning to America's enemies:

• "But after saying all this, I am quite able and willing to confront acts of insanity with the unexpected which will be extremely effective!"

When Frank Moore says he will retaliate with something "unexpected," it is not a threat to be taken lightly!



Do I support the Moore candidacy? I'm still undecided. I agree with about 50% of his positions, disagree with about 25% and think the remaining 25% are completely unfeasible and thus can be safely ignored -- which may not seem very encouraging but which is actually better than my feelings about most of the other presidential candidates!

Moore's main problem is not his political outlook but rather the small size of his campaign. Here we see what is probably his entire staff, wheeling him up the street during the "How Berkeley Can You Be?" parade. Compare this to the size of Hillary's campaign later in this report.

So much for our first stop in the day's electioneering. After a quick sidetrip to the Folsom Street Fair (which coincidentally happened on the same day, September 30), I headed over to my next destination: the Barack Obama campaign headquarters grand-opening celebration.



The party was on 14th Street in downtown Oakland, just a stone's throw away from a Hillary Clinton campaign stop. Apparently this was no coincidence: the Obama campaign purposely scheduled their headquarters' grand-opening to occur on the same day and in the same place as the Hillary event, in an attempt to steal her thunder. As we will soon see, however, the strategy did not exactly work as planned.

The first problem was that the Obama party was divided into two disconnected halves, with the headquarters itself (as this photo shows) being on the upper floor of an office building, while a block party for it happened far below, on the street. While the organizers tried literally to "tie the two parties together" with ropes and streamers, in practice it ended up feeling like two separate events -- neither of which was particularly exciting.



The public was invited to come inside the building, ride the elevator up, and check out the action with the elites upstairs.



When I first arrived it looked like the party might be action-packed...



...but once I got inside, there was no there there (to borrow a famous line about Oakland). Just a few clusters of people standing around. No food. No drinks. No music. No celebrities. No speeches. No entertainment. It was quite a letdown, especially after my visit earlier in the summer to the Hillary Clinton campaign headquarters grand opening, which was much more lavish and eventful.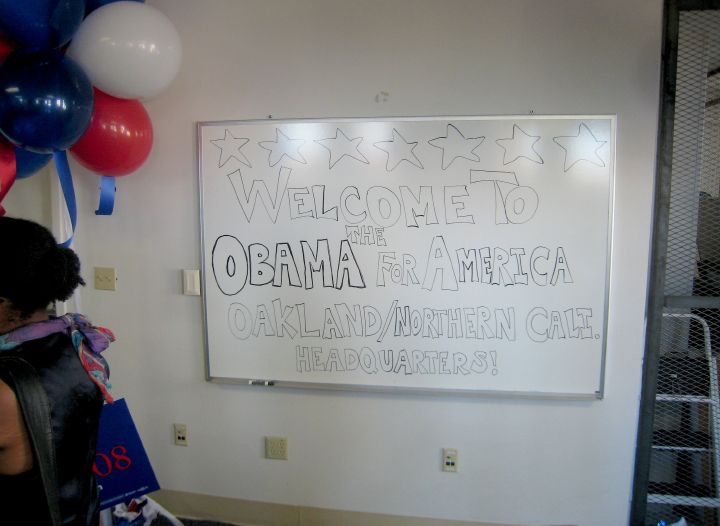 The focus of the party seemed to be this rather insubstantial handwritten sign, next to a storage closet.



This might explain the paucity of offerings: in the place where the lavish spread of food and drinks should have been, there was instead this list of stuff the Obama campaign wanted as donations.



I looked out the window at the other half of the party down on the street. Maybe that's where the action is, I wondered?



So down I went. But everyone down here was just standing around as well, doing nothing. I think they were waiting for a scheduled hip-hop performance.



There was a folding table "campaign store" on the sidewalk...



..but the only products on offer were Obama t-shirts and bumper stickers.



Eventually, after 45 minutes of waiting for something to happen, I simply gave up.

The whole Obama event was flaccid and disappointing, which took me by surprise. I was expecting an invigorated campaign. An earlier appearance by Obama in Oakland had reportedly drawn 10,000 fans. But without the star himself in attendance, the enthusiasm had apparently dwindled to practically nil. Even the Frank Moore appearance seemed more lively, if somewhat less populous.

So I decided to bail out and head over to the Hillary event.



I didn't have far to go. You can see the Obama balloons in the background as the crowd just a block away started lining up to see the Democratic frontrunner.



The different atmosphere was immediately apparent. Instead of hanging up a handwritten sign begging for pens and a first-aid kit, the Hillary team was busy raising an absolutely gargantuan American flag.



Secret Service and police sniper teams were positioned on nearby rooftops, scanning the entire neighborhood for suspicious characters.



I joined up with some Hillary volunteers and did some motivational exercises to prepare us for the upcoming frenzy.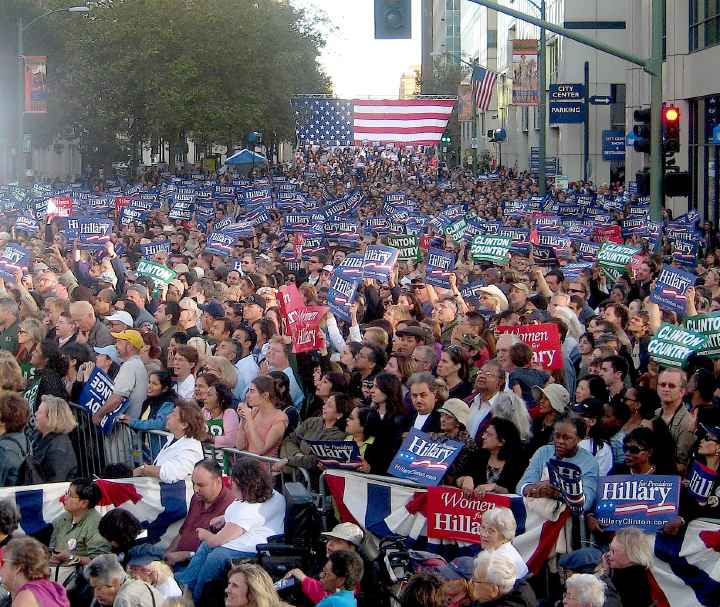 Being a volunteer had its benefits: I secured a nice spot fairly close to the stage. After a while I turned around and my eyes nearly popped out of my head; in a very short time, the crowd had swelled to bursting, filling up entire city blocks. And Hillary wasn't even scheduled to appear for another two hours!



Someone of Hillary's magnitude doesn't just walk out on stage. She has warm-up acts. And so we had to endure a litany of local politicians giving speech after speech. Problem is, Hillary should have chosen a better class of warm-up acts. Here, for example, was Assemblyman Sandre Swanson, who famously had been a supporter of Your Black Muslim Bakery before it was shut down for a laundry list of criminal misdeeds.



Following him was Oakland City Councilman Ignacio De La Fuente (sorry for the blurry photo), who is currently involved in an imbroglio with the Oakland Police over purported crimes by his son.



Next up was San Francisco Mayor Gavin Newsom, who seems to follow me around wherever I go, popping up unexpectedly at all sorts of political events.



After his speech, Newsom waded into the crowd, and was immediately beseiged by reporters and fans. The man loves attention. He also somehow manages to look vaguely Satanic whenever I photograph him. Perhaps it's the hair.



He seems to have a mesmeric affect on attractive young women, who invariably go all giddy and flush with excitement at the very sight of him (both of these women were looking at Newsom when I took these pictures).

But we're going off-topic...



Speaking of attractive young women, the next warm-up act was billed as a high-school drumline, but turned out to be more of a burlesque act by the cheerleaders, while the drummers stood unnoticed in the background. The whole thing seemed rather anti-feminist and inappropriate for a Hillary Clinton event.



Over in the media corral at the back of the crowd, an unbiased mainstream reporter waited impatiently for the main event.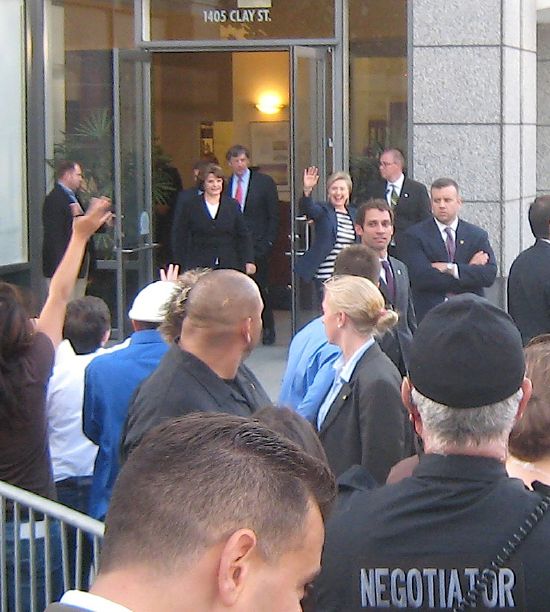 Finally, Hillary and Senator Dianne Feinstein emerged from a nearby building and headed for the stage. Secret Service men and "negotiators" were very much in evidence, though what needed negotiating was never fully explained.



The crowd went wild as Hillary mounted the stage with Feinstein (on the right) and former California State Senator Jackie Speier (wearing the white jacket in this photo, and famous for being one of the few survivors of the Jonestown massacre).



Feinstein gave the final introduction, but the crowd didn't want to hear it. We want Hillary, and we want her now!



Hillary! The air was electric. At this moment I knew that she had the Democratic nomination already wrapped up. I was looking at a juggernaut.



The crowd was packed solid all the way back to the bombastic flag, as Hillary gave her stump speech. Notice the police snipers surveying the scene from the upper left. (This is what wide-angle lenses are for!)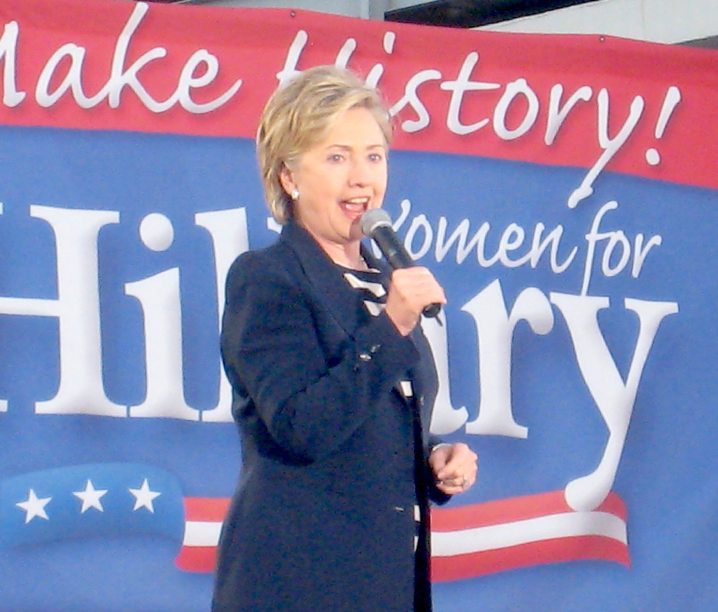 Does it even matter what she said? All that mattered was that we were in her presence.

The comparison with the Moore and Obama campaigns could not have been more stark. The Hillary event was more professional, more crowded, perfectly scripted, and better organized, oozing money and the air of inevitability. Sure, it's an unfair comparison to the Obama event, since he wasn't even present, but from all reports when Obama appeared in Oakland a few months prior to this event, he drew several thousand fewer people than Hillary did -- and this is supposedly in the heart of Obama country.



Even after the Hillary event was over, the electioneering and jockeying for position continued: this time it was Ron Paul who had the last word, as his supporters waited at the exits and handed out flyers to the thousands of curious Hillary supporters.

Given a choice between Frank Moore, Barack Obama, Hillary Clinton and Ron Paul, I'd have to cast my vote for Frank Moore, to be perfectly honest. Though I don't think my vote will make much of a difference. All of California's electoral votes are sure to go to the Democratic nominee, who is sure to be Hillary -- so the election will be decided in other states. But hey, it's fun to pretend that we're relevant!


---


In the photo essay above, I used my best images of Hillary. The urge to do so was automatic and almost instinctual. But I got to thinking: Why? Why am I using my best photos of her, when I don't even particularly like her? Wouldn't it make more sense to use the unflattering outtakes, to make her look bad?



Photos like this, for example? So I got to thinking and became inspired to devote an entire separate page to Hillary outtakes and unflattering photos -- not just by me, but by everybody.

And here it is:

The Really Truly Hillary Gallery




(Click here to return to the main zombietime page.)